Remixed in the U.S. by the Beat Detectives, Michael Patterson (Beck, Usher, Black Rebel Motorcycle Club, Linkin Park, Smashing Pumpkins, The Notorious B.I.G.) and Nic Jodoin (Tears For Fears, Duran Duran, Gary Jules, Missy Higgins) and released November 2004.
'Fall Apart' is eight's sixth radio single, following the recent success of "Centre of Me" taken from the debut album 'Moving'
A beautiful slice of life, both relational and political, 'Fall Apart' showcases the reflective side of eight. Download / Buy 'Fall Apart' or see the video.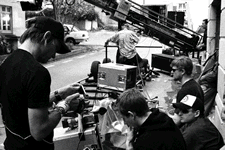 The radio and video airplay version of the song has been reformatted and remixed from the album version. The Beat Detectives did an excellent job of highlighting the strengths of the song and still maintaining that distinctive eight flavour.

The video was shot in Auckland, New Zealand by by Zoomslide director Adam Jone's (a.k.a. Steriogram's 'White Trash' and 'Road Trip' videos) and thanks to NZ on Air. Borrowing the technocrane straight from the set of "The Lion the Witch and the Wardrobe", calling in major favours from film studios, men at work, actors and of course borrowing peoples homes to film it in, the crew worked all day to get the one beautiful fluid shot having the audio wired from LA just hours before.
(As an interesting note:Paul (eight's drummer) didn't make it into the 'Fall Apart' video as he was busy attending the birth of his first child, who was born part way through the filming of the clip - on NZ's 'Labour' Weekend holiday no less)

'Fall Apart' can and should most definitely be requested on your favorite radio and TV stations.
If you like it, you can help us get it out there by:
a) ringing your local radio station and requesting it, preferably at least five times daily
b) email everyone you ever knew and tell them how much the song has changed your life
c) mention us next time you're on Oprah
d) request the video on juice, most wanted, RtR, One network news . . .
e) make like we're really cool and that people who haven't heard of us are like, so out of touch and stuff.
f) all of the above plus additional hours per week spent on own ideas
National Radio Request Line Numbers:

| | | | | | |
| --- | --- | --- | --- | --- | --- |
| | RING | FAX | EMAIL | TEXT | WEB |
| The Edge: | 0800 THE EDGE | 0800 FAX EDGE | | | |
| 91ZM: | 0800 DIALZM | 0800 00ZM FAX | | 9696 | |
| The Rock: | 0800 ROCK PHONE | 0800 ROCK FAX | | | |
| Channel Z: | 0508 342 584 | 09 373 2900 | | 3933 | |
Please support us at local radio too, look in your local directory for contact information.
Video Requests:
| | | | | |
| --- | --- | --- | --- | --- |
| | RING | EMAIL | TEXT | WEB |
| Juice TV: | 0800 JUICETV | | | |
| C4: | | | 8824 | |