Centre of Me' is a short, loud, catchy burst of energy, and stood out straight away as a potential single.

The song was always intended as a no nonsense, catchy rock track, but we wanted to add a different element sonically to give it a slightly different edge. A few hours in the studio spent messing around with a nord keyboard plugged into various guitar pedals and we stumbled onto a melodic bass-heavy keyboard riff which did the trick, and replaced what could have been an easily predictable chugging guitar. This also provided the song with a huge lift into the chorus when the guitars and vocals really kick in.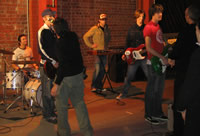 The radio airplay version of the song has been reformatted and remixed from the album version. This process has ended up improving on the original in our opinion, it's full of energy, and cuts to the chase, no messing around.

The video was shot in Christchurch, New Zealand by Richard Bell who also directed the video for "No Way To Decide". It's a great clip, Bruce looks like a right rock star, and it's a first look at our new guitarist Eli in action as well.

'Centre of Me' can and should most definitely be requested on your favorite radio and TV stations.
The video was made in March 2004 in Christchurch with director Richard Bell and thanks to NZ on Air.
If you like it, you can help us get it out there by:
a) ringing your local radio station and requesting it, preferably at least five times daily
b) email everyone you ever knew and tell them how much the song has changed your life
c) mention us next time you're on Oprah
d) request the video on juice, most wanted, RtR, One network news . . .
e) make like we're really cool and that people who haven't heard of us are like, so out of touch and stuff.
f) all of the above plus additional hours per week spent on own ideas
National Radio Request Line Numbers:

| | | | | | |
| --- | --- | --- | --- | --- | --- |
| | RING | FAX | EMAIL | TEXT | WEB |
| The Edge: | 0800 THE EDGE | 0800 FAX EDGE | | | |
| 91ZM: | 0800 DIALZM | 0800 00ZM FAX | | 9696 | |
| The Rock: | 0800 ROCK PHONE | 0800 ROCK FAX | | | |
| Channel Z: | 0508 342 584 | 09 373 2900 | | 3933 | |
Please support us at local radio too, look in your local directory for contact information.
Video Requests:
| | | | | |
| --- | --- | --- | --- | --- |
| | RING | EMAIL | TEXT | WEB |
| Juice TV: | 0800 JUICETV | | | |
| C4: | | | 8824 | |